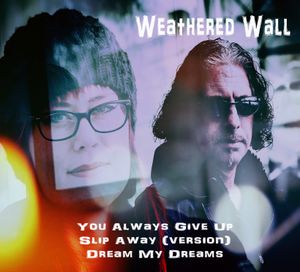 Monday 9th April Sees the Pre-release of a new single by Weathered Wall. This release features the first tracks of a working partnership with the fantastic talents of Coral Cross and Dug Dale. 
Coral is a wonderful singer/songwriter and composer and a talented guitarist, with her own debut album coming out soon. She has worked with several great bands and artists and has written some fantastic tracks that really need to be heard. I think Coral has a great career ahead of her in the music industry. There is a link on this site to Coral's website, so go listen. You wont be disappointed. We are now working together on the next Weathered Wall album called Reflections, And Coral will be the featured voice as well as contributing to the writing. and lyrics. Angels will be one track which is penned by Coral Cross. 
Dug Dale is a brilliant Guitarist and composer who adds to the line up at the moment. Again Dug is a fantastic writer and composer who is in the middle of writing his first  album, which I'm sure we'll get to hear soon. he has worked with many bands and artists in the past, doing a lot of stand in and session work. his album will be a metal album. we work very closely together as we both seem to be on the same wavelength when we write. Currently working on People. for the Reflections album. you'll also every now and then hear his vocals like in Slip away  
So as I say first track 'You Always Give Up' out on pre release on the 9th. closely followed by release on Weathered Walls website and Bandcamp. Full release on the 23rd. A cd will be available soon. Anyone that buys the digital download will be able to contact the band and get a free cd with proof of Purchase. We hope to have one or two video's out soon for the tracks too. and further news about future releases and news about work with/for an american based label Stef  Angel music. So Keep following and up to date with all that's happening and enjoy the ride with Us. 
Dean 
Weathered Wall